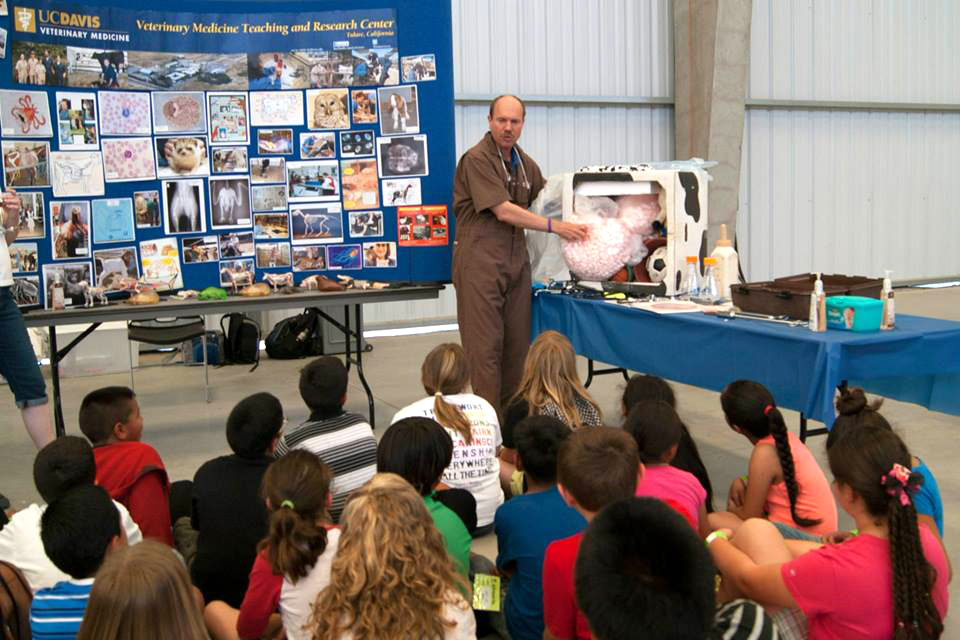 Outreach
Click here for the COVID-19 Multi-State Dairy Industry Survey
VMTRC's outreach and education activities benefit the livestock industry and local community through its many partnerships with area schools and organizations.  The center offers tours, seminars and workshops, custom training programs, and participates in trade shows like Tulare's signature event, the World Ag Expo. Over the last 12 years, approximately 8,000 students, as well as dozens of educators from Central and Southern California, have benefited from direct, hands-on learning in veterinary medicine at the VMTRC.
The center's free tours offer students of all ages real-world problem solving and hands-on activities and investigation in dairy production medicine. For example, they can learn how the monitoring of mastitis is conducted by the center's Milk Quality Lab and how researchers conduct "CSI" type of investigations to identify the source of salmonella outbreaks.  For younger students, the staff regularly visits elementary schools and 4-H clubs with its 'traveling cardboard cow'  -  a cow-patterned box filled with pink packing peanuts (representing muscle), a Styrofoam backbone, and various sized balls to represent four stomach compartments so students can palpate the cow and even determine if she is pregnant (with a plush toy calf).  These events help students and teachers explore healthy food choices, learn how food is grown, interact with farm animals, and learn about careers in agriculture. For those contemplating college, VMTRC post-graduate residents participate in high school career days, and a high school internship program with the center's Milk Quality Lab  provides students the opportunity to work in the laboratory and learn basic skills.  For high school students specifically interested in becoming a veterinarian, they have the opportunity to observe clinical veterinary services provided on-farm to local dairy herds with the Dairy Production Medicine clinicians.  The internship has been very successful with several of the students going on to veterinary school and becoming practicing veterinarians.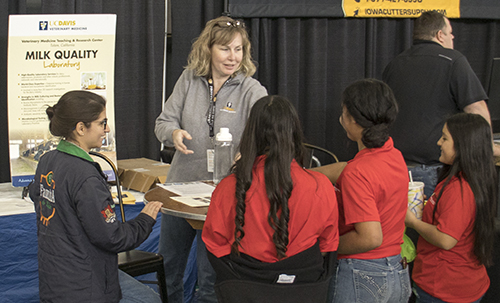 Educators can experience dairy production medicine firsthand through VMTRC's participation in the Education and Agriculture Together (E.A.T.) Foundation's annual workshops that help teachers incorporate agriculture into the classroom. E.A.T. Foundation is a non-profit organization designed to increase educator's knowledge and experiences in the agriculture industry and equip them with the appropriate tools to teach future generations the importance of agriculture and rural stewardship in today's society. 
Each year in February, the VMTRC hosts a booth at the World Ag Expo in Tulare.  This is the largest agriculture equipment show in the world hosting over 100,000 visitors and 1,500 exhibitors, and showcases the latest innovations and trends in farm equipment, communications and technology on 2.6 million square feet of exhibit space.  During the three-day show, attendees visiting the booth learn about the center's important role in training veterinary students and residents in dairy production medicine, and in conducting research and services to solve problems related to dairy production medicine, food safety, cattle welfare and ecosystem health.