Research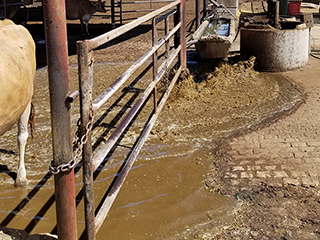 Recycled flush and lagoon water as a reservoir for antibiotic residues and resistant bacteria on dairies
Dairy wastes are potential sources of zoonotic pathogens and chemical compounds that contaminate the environment. Flushing cattle pen alleys with recycled lagoon water, which is a common practice on dairies, may play a role in disseminating drug-resistant bacteria on the farm environment. The objective of this study is to determine the role of recycled flush lagoon water in disseminating the resistant bacteria and antibiotic residues in dairies using fecal Escherichia coli and Enterococcus spp as indicator organisms.
Surveillance of antimicrobial resistance in cow-calf operations on California pasture

The goal this study is to benchmark the burden of antimicrobial resistance in fecal bacteria from cattle of different age groups on cow-calf operations in California. We utilize a combination of phenotypic antimicrobial resistance profiling and metagenomic analyses to quantify the burden of antimicrobial resistance determinants in fecal bacteria and evaluate the risk factors for fecal shedding of drug resistant bacteria. The outcome of this study will provide insights on how the bacterial resistance may change during calf hood and into adulthood for cattle on pasture or range in California.

Genotypic characterization of antimicrobial resistance in indicator organisms from dairy sources
Within a bacterial population, there is a wide array of resistance genes. We are using high through-put microfluidic PCR to determine the abundance of different resistance genes in bacteria from California dairies, and analyze the risks for emergence and spread of these resistance genes under routine management conditions.