Residency in Dairy Production Medicine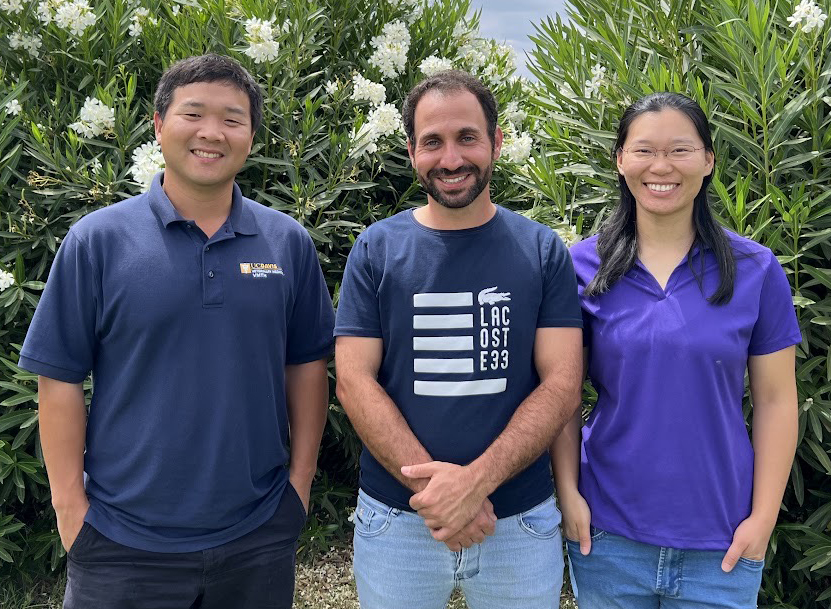 Left to Right , Dr. Yoonsuk Lee (3rd Year), Dr. M. Musab Muhffel (2nd Year), Dr. Muyuan Li (1st Year)
The Veterinary Medicine Teaching and Research Center (VMTRC) is located in the heart of California's dairy industry.  Tulare County is the leading milk production county in California, home to over 280 dairies with an average herd size of over 1,700 cows. Tulare County is also home to many feedlots for dairy beef production and heifer replacement rearing. The Dairy Production Medicine residency program is situated in this unique area and taps into these important resources.
In addition to clinical training in dairy production medicine, this residency program provides candidates with quantitative skills that can be utilized in the interest of controlling and preventing economically important diseases and improving the efficiency of dairy cattle production.
Residency Program Goals
Acquire expanded training in dairy production medicine and herd health for careers in advanced dairy practice, dairy consulting practice, food animal academic positions, or industry, depending on the needs of the resident.
Gain clinical teaching experience.
Develop knowledge and skills for designing and implementing clinical research projects.
Receive graduate training and earn an advanced degree.
Become eligible for possible board certification in: ABVP - Dairy Practice; ACVPM (Preventive Veterinary Medicine); or Theriogenology, depending on the needs and interests of the resident.
MPVM Degree
Currently, residents completing the program receive a residency certificate, earn the Master of Preventive Veterinary Medicine (MPVM) degree, and will be qualified for employment in progressive dairy practices; academic positions in dairy herd health or reproduction, especially where epidemiology and/or preventive medicine is emphasized; in industry; and for leadership positions in public sector regulatory veterinary medicine.
The MPVM degree program involves three academic quarters of coursework on the UC Davis campus and occurs during the second year of residency. (While taking academic coursework, the resident is not assigned to clinical duties or rotations.) The MPVM program emphasizes epidemiology and biostatistics, and provides for a variety of elective courses in nutrition, mathematical modeling for epidemiology, infectious diseases, economics, and diagnostic test evaluation.
Residents are responsible to pay all registration fees.
Minimum qualifications include graduation from a school of veterinary medicine, and a one-year internship or equivalent practice experience. Resident selection is made on the basis of academic achievement, career objectives, letters of recommendation, and pertinent experience.
Application Procedure
Selection will utilize the Veterinary Internship/Residency Matching Program (VIRMP). For application procedures, salary and benefits, and other information about the residency program, please visit  www.virmp.org.

If you visit the VMTRC, please contact Rhonda Gillum (559-688-1731) before your arrival. Resident selection will be done at the VMTRC.
Dairy Production Medicine Residency Program Objective (download pdf)