Virtual Tissue Software
DESCRIPTION OF SOFTWARE
The Virtual Tissue program shows changes in metabolism and nutrient flow within and between tissues in different physiological states.  Once a state is selected, metabolic maps for whole human, whole ruminant, liver, mammary, adipose, and muscle (with some gut) change to reflect changes in biochemical pathways.  Included in the program are 16 different physiological states, urea cycle, structures for all major pathway intermediates, energy flow for each pathway in each state, full length pop up definitions for all abbreviations, enzymes involved in pathway, identification of main regulation points in reactions and color indication of increasing, decreasing or unchanging nutrient levels with each state.  This program was developed by Heidi Rossow and was funded by the Undergraduate Instructional Improvement Program.
HOW TO DOWNLOAD SOFTWARE
This program requires approximately 60 MB of hard disk space.  Please be sure to download all files to the same directory on your computer.  If errors occur during the installation process, ignore them.  If the installation program asks if you want to keep existing file, click yes.
For Windows XP and Earlier:
Click on the highlighted link below. A menu appears.
Choose the "Run" option for all boxes that appear.
Extract files to 1 location on your hard drive.
Navigate to that location and run the Setup.exe file.
Install in the default location (c:\Program_Files\Virtiss\)
An error may occur with file ieframes.dll. Press ignore and installation will continue.
For Windows 7:
Follow 1-4 above.
     1. During the installation process, the following screen prompts for the installation location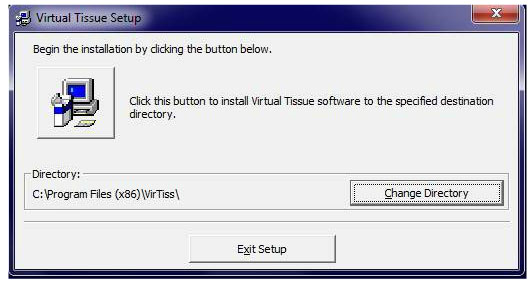 2.  Click the change directory button and edit the directory path to be
          C:\Program_Files\Virtiss\
     3.  Then press the computer icon button to install the virtual tissue software.