Feed Management

Feed Management Monitoring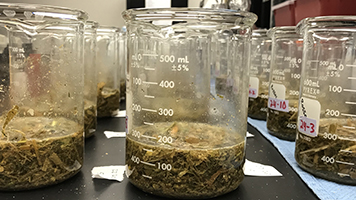 Through research, we provide services for Nutritionists, Veterinarians, and Dairymen with various forms of routine feed management monitoring: 
Chlorides, and Blood Glucose & Ketones: for identification and monitoring of sub & clinical ketosis
Urine pH: for DCAD effectiveness
Fecal Monitoring
TMR Sampling
To complete our research, we collect physical samples and data on participating dairies, after which, the samples & data are analyzed and studied. This process allows us to better understand dairy industry's needs and provide accurate information to the animal agriculture and research communities.
Mitochondria Research

Mitochondria are central to metabolism, nutrition, and health, but many factors can influence their efficiency. The objectives of this study were to determine if specific mitochondrial enzyme activities from peripheral blood mononuclear cells in dairy calves were affected by age or relative gain as a percent of initial weight.
Publications
Click here for a deeper look into our past research endeavors and published works.